A bit about me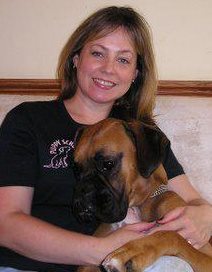 Hello, I'm Lisa!
I was very proud to become a qualified Puppy School Tutor in 2007 and I love every minute of it. I have lived with dogs and various other animals including, Rats, Hamsters, Rabbits, Cats and Fish, most of my life. I have compleated various animal related courses including 'Small Animal Care', Animal Behaviour', 'Dog Grooming' and 'Dog Training'.
I have worked in rescue and regularly attend courses and seminars, to help keep me on my toes and to improve my knowledge. Examples of workshops and seminars I have attended are with; Gwen Bailey, Patricia McConnell, Grisha Stuart and Dr. Ian Dunbar, with the latest seminar in May 2017 with Chirag Patel, hosted by the fabulous Puppy School.
I have shared my life with various breeds and cross breeds, including my lovely Basil, a German Shepherd x Greyhound, and my gorgeous Boxer, Buster. I now share my home with a young large mixed breed, German Shepherd x Collie x Pyrenean Mastiff, a real character who is fun, loving and full of mischief, called Mickey, who came to us through a rescue.
I have come to understand how important kind and positive training is, this allows for a good foundation on which to build strong bonds and understanding between human and our wonderful canine friends.